RISMEDIA, Monday, May 06, 2019— If you're on the fence about listing your home, now is the perfect time to take the dive. According to a recent ATTOM Data Solutions analysis, 19 of the 20 best days to sell during the calendar year fall in May or June.

After analyzing more than 28 million single-family home and condo sales over the past eight years, ATTOM Data Solutions concluded that sellers listing around this time of the year—as the weather is warming up—will garner seller premiums.

"Since summer is a time for vacations and outings, it's no surprise that it's also a time when people are most likely to move," said Todd Teta, chief product officer with ATTOM Data Solutions.

Additionally, the company broke down their eight years' worth of research month by month. Here were the best months to sell, between 2011 and 2018, based on seller premiums for single-family home and condo sales:

1. June
Number of sales: 2,881,400
Median sales price: $200,000
Seller premium: 9.2%
2. May
Number of sales: 2,657,045
Median sales price: $190,000
Seller premium: 7.4%
3. July
Number of sales: 2,752,755
Median sales price: $199,500
Seller premium: 7.3%
4. April
Number of sales: 2,372,242
Median sales price: $184,063
Seller premium: 6.4%
5. March
Number of sales: 2,247,224
Median sales price: $178,000
Seller premium: 6.1%
6. August
Number of sales: 2,802,268
Median sales price: $195,706
Seller premium: 5.8%
7. February
Number of sales: 1,694,513
Median sales price: $170,000
Seller premium: 5.6%
8. September
Number of sales: 2,423,163
Median sales price: $190,000
Seller premium: 4.7%
9. November
Number of sales: 2,094,175
Median sales price: $188,173
Seller premium: 4.0%
10. January
Number of sales: 1,762,726
Median sales price: $170,000
Seller premium: 3.7%
11. October
Number of sales: 2,440,413
Median sales price: $188,000
Seller premium: 3.3%
12. December
Number of sales: 2,223,542
Median sales price: $188,000
Seller premium: 3.3%
And below is an infographic produced by ATTOM Data Solutions illustrating what they found to be some of the top days during the year to sell a home.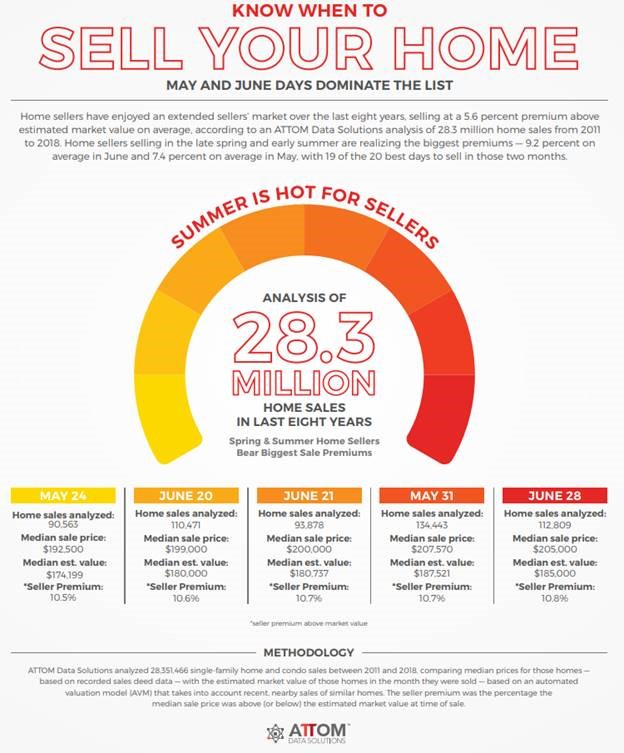 Credit: ATTOM Data Solutions

To view the analysis and for a full breakdown of the company's methodology, click here.

This was first published on RISMedia's Housecall.

Jameson Doris is RISMedia's blog and social media editor. Email him your real estate blog ideas at jdoris@rismedia.com.

RISMedia welcomes your questions and comments. Send your e-mail to: realestatemagazinefeedback@rismedia.com.


Copyright© 2023 RISMedia, The Leader in Real Estate Information Systems and Real Estate News. All Rights Reserved. This material may not be republished without permission.